Internships
Jeannie Andresen
Associate Director of Internship Development
jeannie.andresen@nm.com
312-641-8926
My Networks:
Jeannie earned her Bachelor of Arts degree from DePaul University. She joined The McTigue Financial Group internship program as a College Financial Representative in 2011, was named a Campus Recruiter in 2012, and promoted to Associate Director of Internship Development in 2015.
Melissa Machuta
Campus Recruiter
melissa.machuta@nm.com
312-641-8944
My Networks: 


Melissa earned her Bachelor of Science in Business Administration degree from The Ohio State University. Upon graduation in 2012 she joined The McTigue Financial Group as an Associate Financial Representative. She joined the internship program and was named a Campus Recruiter in 2015.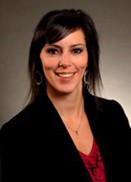 Theresa Taylor
Director of Internship Development
theresa.taylor@nm.com
312-641-8924
My Networks:
A senior member of the management team, Theresa is responsible for leading the internship program and overseeing the recruiting, training and development of college financial representatives. She joined The McTigue Financial Group in 1995.
A Top 10 Internship Program1 with One of the Best Places to Work in Chicago2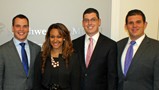 If you have an entrepreneurial spirit, want real-world business experience and are looking to make a difference, then an internship with The McTigue Financial Group of Northwestern Mutual is right for you.
Our internship has been highly rated due to its mentorship and career advancement opportunities, intern involvement, resume enhancement and the opportunity to work within one of Northwestern Mutual's top network offices. But that's just the beginning. A financial services internship with The McTigue Financial Group also includes:
Practical guidance in your career selection process
The chance to develop networking and business relationship skills with the help of a mentor
Flexible work schedule
Securities registration and state licenses for life, health and accident insurance
Virtually unlimited income potential, including commission and stipends
An opportunity to get a head start on a career as a financial representative
The McTigue Financial Group Internship Experience
Our internship program is more about developing people than selling products. You will go through several stages of training and development. Each phase has a specific purpose preparing you for a successful and rewarding internship experience. It will allow you to build a foundation of knowledge in the financial services industry, learning what it takes to be successful while sharpening your skills in communication and marketing to help build personal and professional self-confidence.
Once you have completed our top-notch training, you will work with specialists and full-time financial representatives to make recommendations to help clients achieve their short- and long-term financial goals. You will discover the rewards that come from helping others as you bring a full-service approach to your clients' needs and provide guidance and solutions that will have a positive impact for years to come.
As a year-round internship, you will generally work 15 to 20 hours per week during the school year and at least 40 hours per week in the summer. Along the way you will have mentoring support that goes beyond just supervision and business coaching that leads you to success. And, if you are looking for leadership roles, you can work toward a position as a College Unit Director or Team Captain, giving you a jump start on the leadership track.
Step into Opportunity Year-Round
Are you ready to build on your classroom learning and develop skills that you will use for a lifetime? We are currently looking for sharp, hard working, entrepreneurial-spirited students in the Chicagoland area for our summer and fall training classes. Our rolling start to the internship means that our recruiting efforts are year-round. Students participating in the internship work from one of four locations, including:

If you are ready to be your own boss, set your own hours and make a positive impact on people's lives every day, then turn your dreams into reality and find out what an internship as a College Financial Representative with The McTigue Financial Group can do for you. Call our campus recruiters today -- Jeannie Andresen at 312-641-8926 or Melissa Machuta 312-641-8944.
Career Fairs & On Campus Interviews
You will find us actively recruiting on the following Chicago area college campuses:  Benedictine University, Concordia University, DePaul University, Dominican University, Elmhurst College, Lake Forest College, Loyola University, Trinity International University, Wheaton College, University of Illinois – Chicago, among others.
We would like to meet you and introduce you to a career with meaning during one of our upcoming on campus visits. Follow us on Twitter @TheMcTigueGroup to learn when we will be near you.
1Vault Guide to Top Internships, 2014 edition
2Crain's Chicago Business (2009-2014)