Local Network . . . Expert Guidance
Leading With Confidence
With a solid foundation of more than 140 years, the Chicago office of Northwestern Mutual has been building lifelong relationships with clients and helping them create and carry out their financial security plans. The McTigue Financial Group representatives provide comprehensive financial planning to meet a variety of personal and business needs, including asset and income protection; investment and advisory services; trust services; education funding; retirement solutions; estate planning; and employee and executive benefits.
The local network office, led by Managing Partner John W. McTigue since 1995, is at the forefront of Northwestern Mutual network offices nationwide. A guiding principle of the firm – for both its financial representatives and staff – is a commitment to personal and professional growth and a belief that you achieve greater success when supported by systems of accountability and a culture of high expectations.
Our dedication to providing extensive training and leadership development programs, mentoring opportunities, and the ability to achieve work life balance, all contributed to us being named for five consecutive years to Chicago's Best Places to Work by Crain's Chicago Business. In 2013, the firm was ranked #5. Chicago's Top 20 was based on the strength of the organization's leadership, career development opportunities, compensation and benefits, and other day-to-day workplace issues.
We are also proud that for four consecutive years The McTigue Financial Group has been the recipient of the Northwestern Mutual Team Award. This company award recognizes superior leadership in new financial representative recruiting, development and retention.
Connecting With Communities & People Where We Live and Work
A strong supporter of the communities we serve, The McTigue Financial Group is actively engaged with a variety of non-profit organizations.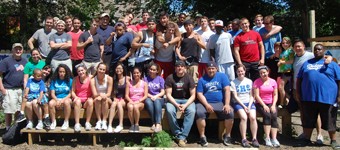 Every summer the internship team works together with the Young Men's Educational Network(YMEN) to bring meaningful change to Chicago's North Lawndale community. In 2012, the Northwestern Mutual Foundation recognized these efforts and awarded The McTigue Financial Group the prestigious Community Impact Award.
Beyond group activities, the firm has been recognized with 21 Northwestern Mutual Foundation Community Service Awards, more than any network office within Northwestern Mutual. Our Community Involvement page highlights the financial representatives and staff whose outstanding dedication to local organizations has significantly bettered their communities.
The Right Opportunity for the Right Person at the Right Time
We are proud of the organization we have built by providing meaningful work, leadership and development opportunities and work life balance. We are growing and selectively looking to attract and develop high quality individuals with integrity, professionalism, and a commitment to lifelong learning. Learn more about our career and internship opportunities.

Follow us on Twitter to learn about what we do, who we are, and how we make a difference. @themctiguegroup